The Importance of Sustainable Fashion
In a world where fashion trends change rapidly and fast fashion dominates the industry, it's essential to shift our focus towards sustainable fashion. Choosing ethical and eco-friendly clothing not only helps preserve the environment but also supports communities and artisans who create these beautiful pieces with love and skill.
Fair Trade and Empowering Communities
By opting for Beshlie's ethical fashion essentials, you actively participate in the fair trade movement. Each piece in our collection is made with love by women artisans, providing them with fair wages and empowering them to support their communities and preserve their traditions. Your purchase becomes a catalyst for positive change, fostering a brighter future for generations to come.
Sustainable Materials and Eco-Friendly Practices
We believe that fashion should not harm the planet. That's why our clothing is crafted from sustainable materials like organic khadi cotton and recycled cotton. Our production processes adhere to eco-friendly practices, reducing the carbon footprint and promoting responsible consumption. Embrace conscious fashion that honours both the Earth and its inhabitants.
Style Guide: Elevate Your Wardrobe with Ethical Fashion Essentials from Beshlie
Are you ready to infuse your wardrobe with timeless elegance, sustainability, and a touch of global artistry? Look no further than Beshlie's diverse collection of ethical fashion essentials. With a wide range of offerings, including the Mini Nomadic, Nomadic Woman, Scarves, Accessories, and more, we have a curated a selection of key pieces that effortlessly elevate your style while making a positive impact on the world.
Outfit Inspiration: Boho Chic Dreamer
Inspire your little one's sense of adventure with our Mini Nomadic Jumpsuit. Made from soft organic khadi cotton and adorned with playful block prints, this jumpsuit is perfect for playdates and picnics. Add a sun hat and comfortable sandals to complete the boho-chic look for your mini explorer.
Outfit Inspiration: Oceanic Whimsy
For a fun and playful look, dress your little fashionista in the Under the Sea Tie Dress. Its aquamarine hue and zigzag pattern capture the essence of the ocean. Add a pair of cute sandals and a sunflower headband to create a look that's perfect for a day at the beach or a family outing.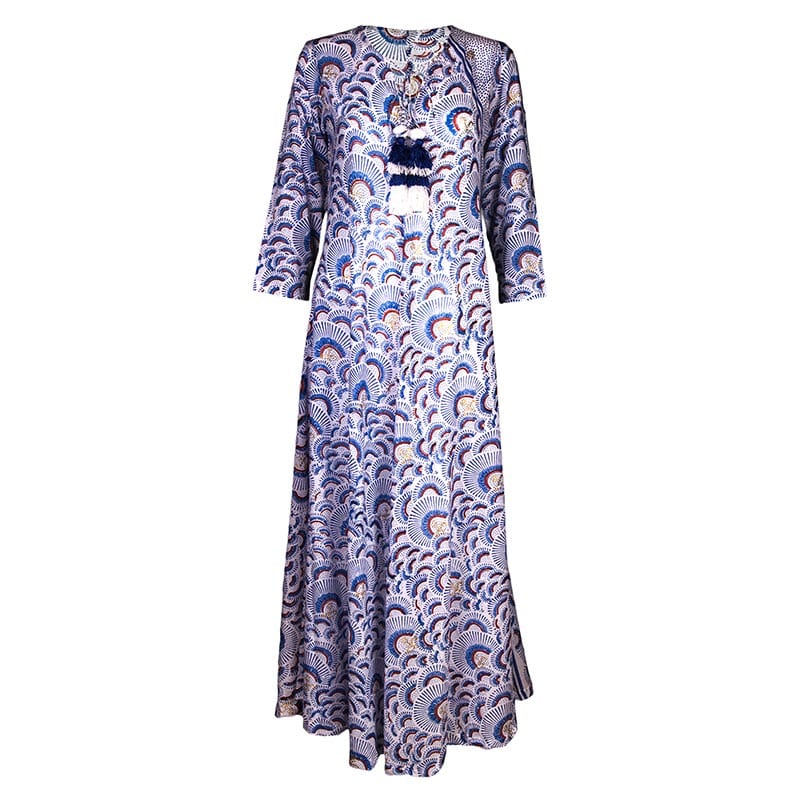 The Wanderlust Maxi Dress
Outfit Inspiration: Effortless Elegance
Wrap yourself in the understated luxury of our Wanderlust Maxi Dress, crafted with soft handwoven cotton and embellished with intricate embroidery. Layer it over a simple white tee and your favourite jeans for an effortlessly chic daytime look. For a touch of evening glamour, wear it over a sleek black dress and accessorise with bold earrings. This versatile dress seamlessly elevates any outfit.
Outfit Inspiration: Bohemian Wanderlust
Embark on a journey of bohemian wanderlust with our Artisanal Handwoven Scarf, crafted with intricate designs and rich cultural heritage. Whether you choose to wear it as a traditional neck scarf or over the shoulders as a shawl, this scarf effortlessly captures the essence of artistic expression. Embrace your adventurous spirit and let the scarf be your canvas of self-expression.
Outfit Inspiration: Daytime transition to Evening Wear
Complement any outfit with the Florablanca Clutch Bag, a beautiful accessory hand-beaded with intricate floral designs. This handbag adds transitions seamlessly from daytime to evening adding a unique touch to any outfit. Use it as a clutch or use the detachable strap for a stylish crossbody look.
Join the Ethical Fashion Movement
Each piece in Beshlie's collection, whether from the Mini Nomadic, Nomadic Home, Wanderlust, or other ranges, reflects our commitment to ethical practices, fair trade, and sustainability. By embracing these ethical fashion essentials and artisanal home décor, you contribute to a brighter future for artisans and their communities. Elevate your style and living spaces while making a positive impact on the world – discover the beauty of conscious fashion and home décor with Beshlie today.
Note: The featured products are available on our website. Explore the full collection to find your perfect ethical fashion essentials and artisanal home décor.